Welcome to the Whiz Kids Signup System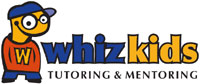 Notice: Not all sites are ready to accept signups at this time. If your site is not listed, please contact your Site Leader about start dates. If you are new to Whiz Kids, you can select the Site name from the list to see meeting days and times, start date, as well as location. Sites will be added to this list as their starting dates are confirmed.
All new, first-year Whiz Kids volunteers are required to attend a regional training prior to starting with their Whiz Kids Site. Trainings are at different dates, times, and locations. You'll be able to select your training time as a part of the sign up process.